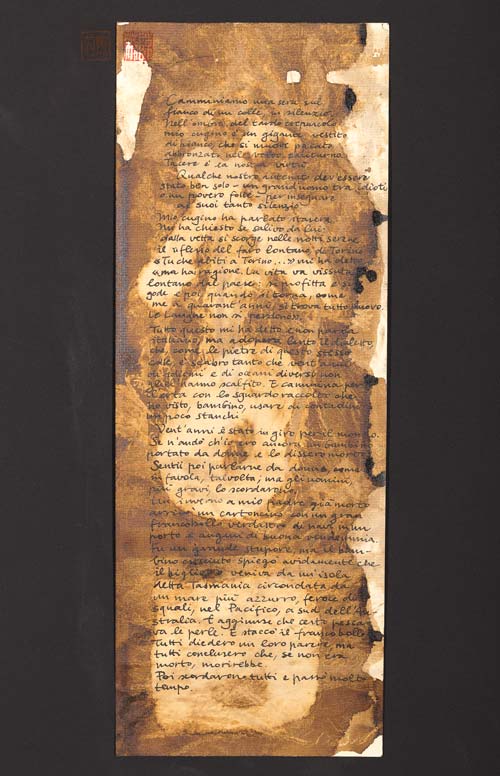 Lavorare stanca (labor tires)

inks, paper
10x30 cm
© Chen Li
1997
Lavorare stanca
Details: Serie of calligraphic works on paper, tribute to formal and not formal script, words, poetry, colours. In a very minimal way.

Calligraphy / Words / Gesture
Paper was the best surface for calligraphy in any time. the beautiful signs using any tool, its versatility and the large variety of samples, calligraphy do love paper. I worked for more than 10 years only on paper since 1994 to 2004. It's a group of works dedicated to poetry, to calligraphy and to alphabets. From 2004 I started working on canvas with calligraphy. The style was mixed between east and west. From 2008 to 2014 I tried a more contemporary approach "get out of my mind", "Lightness", "Happiness", where already one word can be evocative for the works. From 2010 I started small sizes canvas, and papers after brief residencies in Finland, Holland, Germany, Romania, and in Italia (Napoli), places and people I used to tribute in this way.
Dettagli: Serie di opere di calligrafia formale e informale, dove il segno e la parola sono protagonisti.

Calligrafia / Parole / Gesti La carta è il supporto prediletto della calligrafia di tutti i tempi_ il segno raggiunge il suo apice di espressività e di bellezza con ogni strumento. La sua versatilità e la grande varietà di carte esistenti mi ha permesso di lavorare per oltre dieci anni, dal 1994 al 2004 solo su carta. Si tratta di una serie di lavori dedicati alla poesia, agli esercizi di virtuosismo calligrafico, agli alfabeti. Dal 2004 inizia il ciclo delle Calligrafie su tela che culmina nelle opere dedicate a "La Divina Commedia" e a Jorge Luis Borges, dove i materiali naturali incontrano quelli contemporanei e scoprono la terza dimensione; nel 2007 un ritorno al pennello nella serie dedicata alla Cina e alle 300 poesie Tang 唐诗: si tratta di lavori più calligrafici che pittorici, di ispirazione tradizionale e legati a un'estetica orientale ma con contaminazioni cromatiche occidentali. Dal 2008 al 2014 continua la ricerca di un linguaggio più contemporaneo e nascono grandi tele "get out of my mind", "Leggerezza", "Happiness", dove la parola diventa un concetto da cui partire e non più il fine dell'opera. Dal 2010 ricominciano i lavori di piccolo formato in carta, frutto di residenze artistiche e collaborazioni con artisti in paesi amici: Finlandia, Olanda, Germania, Romania, e anche in Italia (Napoli).